Dire Straits - Their History
[2/2]
---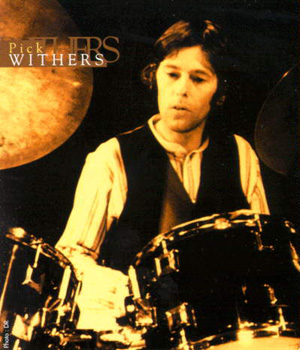 APRIL 1985 - APRIL 1986
"Brothers In Arms" enters the UK chart at the top and stays there for 3 weeks, but this hardly offers a clue to the American and worldwide response which is to transform Dire Staits' status form First Division to Super League. The album launches a thousand statistics.

In the USA, it reaches Number 1 in August and stays there for nine weeks. Similarily, "Money For Nothing" with Sting as guest vocalist, is Dire Straits' first American Number 1 single. In the following months, "Brothers In Arms" also tops the charts in Canada, Brazil, Austria, Belgium, Denmark, Eire, Finland, France, German, Greece, Iceland, Norway, Portugal, Spain, Sweden, Switzerland, Turkey, Yugoslavia, Australia, New Zealand, Hong Kong and Israel. Incidentally, "Brothers In Arms" becomes, perhaps, the key album in transforming CD from a new-fangled curiosity into a mass-market "music carrier".

The tour covers 23 countries, 117 cities, 248 shows and sells 3 million tickets. Legendarily, they play some astonishing unbroken runs of gigs for a major act, such as 23 straight nights in the UK in December 1985. On 13 July 1985, they perform to a billion TV viewers from the Wembley Stadium end of Live Aid. The tour ends in Sydney, Australia, the 20th night there, on 26 April 1986.
JUNE 1986 - JUNE 1988
Mark and John play the Prince's Trust concert at Wembley Arena with Paul McCartney, Elton John, and Tina Turner, Mark produces 2 tracks for her "Break Every Rule" album, including his own "Overnight Sensation".

Busman's holidaying from the band, Mark records for the soundtrack of Martin Scorsese's "The Colour Of Money" (starring Tom Cruise and Paul Newman). He joins the "host of stars" re-recording "Let It Be" to raise money for the families of the Zebrugge ferry disaster victims; he plays with Chet Atkins at The Secret Policeman's Third Ball - a benefit for Amnesty International - then again on an American TV tribute to the great Nashville guitar man; as is to become traditional, he guests with Eric Clapton's band for his annual Royal Albert Hall winter session in London and a European tour; he writes and performs the soundtrack for the Rob Reiner movie "The Princess Bride"; he produces and plays on Willy DeVille's album "Miracle" and several tracks for Randy Newman's "Land of Dreams". Meanwhile, John Illsley releases a single under the name of K Wallis B and the Dark Shades of Night, plus his second solo album, "Glass".

On 9 November 1987 Lourdes gives birth to twin boys, Benji and Joseph.

In early 1988, Mark socialises with Steve Phillips and Brendan Croker, old guitar-picking friends from his Leeds days as an apprentice journalist. He offers to produce Phillips' next album. Over the ensuing months Synclavier meister Guy Fletcher becomes involved too and they very gradually record a set of some of their country blues favourites.
JUNE 1988
After two fan-club-only warm-up gigs at Hammersmith Odeon, Dire Straits, with Eric Clapton on second guitar, play the Nelson Mandela 70th Birthday Party at Wembley Stadium (part of the Artists Against Apartheid campaign), closing the show.
JULY - OCTOBER 1988
Mark plays on Joan Armatrading's album "The Shouting Stage", then he and Alan Clark join Eric Clapton's band for an American tour. The "Money For Nothing" hits compilation is released (a UK Number 1).
JANUARY - DECEMBER 1989
Mark writes and records the soundtrack for the German director Uli Edel's movie of the once controversial novel "Last Exit To Brooklyn". During the summer, a pub conversation with Steve Phillips and Brendan Croker reaches a conclusion that they have temporarily become a band called the Notting Hillbillies, that they will go out on the road to promote their slowly gestated album and that Dire Strait's manager, Ed Bicknell - last seen on a drum stool in a ceilidh band for the "Local Hero" soundtrack - is appointed official tub-thumper fortwith.
JANUARY - OCTOBER 1990
The Notting Hillbillies' album "Missing... Presumed Having A Good Time", is released by Phonogram on 5 March and goes Top 10 in the UK. They hit the road for 41 gigs in 43 days around Britain through April and May. The significant Knopfler verdict on the whole Hillbillies excursion repeated in interview after interview is, "I'm absolutely in love with music".

By now, Mark has used Nashville pedal steel guitar ace, Paul Franklin and `steals' him for Dire Straits.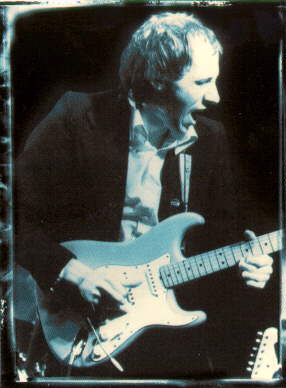 Mark finishes an album of duets with Chet Atkins called "Neck and Neck", released November 1990 (UK Number 29 and Number 1 in the UK Country chart, multiplying Atkin's usual British sales by a factor of 6) and concludes other sideline recording work with Buddy Guy and Brendan Croker before - after a 5 year hiatus - he and John Illsley decide it's time to get back to Dire Straits. Mark and John play with Clapton's band at the Knebworth Festival benefit for Music Therapy, Mark spends the summer in America writing and comes up with 15 new songs from which the album will be chosen.
NOVEMBER 1990 - MAY 1991
Dire Straits record their sixth album, "On Every Street" with engineers Bill Schnee and Chuck Ainlay at Air Studios in London with production credited to Mark Knopfler and Dire Straits and mixed by Neil Dorfsman.

Bob Clearmountain mixes one track "Heavy Fuel".
23 AUGUST 1991 ..... SOMETIME IN 1993
Dire Straits begin their world tour with five dates at The Point in Dublin, expecting 250-300 more to follow over the next 2 years, with audiences adding up to maybe 7 million.

The 1986 tour line-up is considerably changed and augmented. While Knopfler, Illsley, Fletcher and Clark are now officially designated Dire Straits, the nine-piece line-up now also features Chris White (sax), Paul Franklin (pedal steel), Danny Cummings (percussion), Phil Palmer (guitar) and Chris Whitten (drums).

dire straits
world tour

     .

     .

     .

on every street

                    .

dire straits  .   on every street

                    .



US and Canadian tour 1992

LEAD GUITAR/VOCALS

MARK KNOPFLER

BASS GUITAR/VOCALS

JOHN ILLSLEY

KEYBOARDS

ALAN CLARK

KEYBOARD/VOCALS

GUY FLETCHER

SAXOPHONE/VOCALS

CHRIS WHITE

PEDAL STEEL GUITAR

PAUL FRANKLIN

GUITAR/VOCALS

PHIL PALMER

DRUMS

CHRIS WHITTEN

PERCUSSION/VOCALS

DANNY CUMMINGS

For your suggestions and comments .. :

modabasi@virgo.com.tr

[ Back to Dire Straits Home Page ]

| Mustafa Odabasi's Home Page | Links | Guestbook | E-Mail |

Reseller hosting